I will be the first to admit that I am no Domestic Goddess. I was spared household chores till the age of 26 when I got my own place. As a late bloomer, you can imagine the steep learning curve I encountered for apparently simple daily chores like ironing and cooking. Till this day, my husband and I still finger-point at each other whenever he fishes out his former favourite dry-fit shirt that has a proud iron mark emblazoned on it! >.<
With Singapore flats getting smaller and with our humid climate, ironing is no easy feat. Setting up the ironing board in a space-tight flat makes ironing a dreadful task. Initial troubleshooting with the iron included chalky water pouring out of the steam iron or the iron scratching/ melting my delicate fabrics (psssttt I do not recommend trying to iron chiffon). I later learned the value of placing another thin cloth over my clothes... it seems that the old fashioned way of ironing does have some practical purpose to it.
When I first got the keys to my newly renovated flat, I was particular even about things like my bedsheets. I wanted picture-perfect smooth bedsheets. Imagine my horror when the washing machine/ dryer rendered my bedsheets to crumpled heaps!
Enter the Garment Steamer! It was a God send to me! I received a Philips Garment Steamer from a friend and I could steam bedsheets even without an ironing board!
Fast forward 2 years later! I've since stopped trying to steam my bedsheets and learnt that sleeping in crumpled sheets render them smooth after a few days! >.<
And what about my Garment Steamer? It started spitting out hot water at me to the extent that I would get scalded.
It was no joke! After a while my husband and brother in law refused to use the steamer as even their thick skins could not stand the scalding water droplets from the garment steamer! It was rendered obsolete for the longest time and it was back to the ironing board for us! Me being the fuss-free person that I am, I started tackling the root of the problem, by buying iron-free and wrinkle-free clothes! :P But there were times when I was really in a rush and had to wear a particular attire only to find it crumpled. Amidst this experience, Google taught me 2 tips which I followed diligently:
A) Sprinkle water over your clothes on the bed and smooth out with your hands in a best effort attempt to remove any creases! :P
B) Hang your clothes on a hanger in the bathroom and take a hot bath. The steam will hopefully smoothen out any creases while you bathe.
After a while, friends did take notice of my crumpled clothes (AH THE SHAME!) and I finally confessed to my good friend over tea regarding my plight. Our casual chat funnily shed some light on my steaming woes.
She had also experience the same hot water spurting problem with her garment steamer! And when that happened umpteen times, she stormed to the sales representative in a huff demanding to know why the Garment Steamer was faulty. She asked the poor chap "Why does my steamer spit hot water?!!"
And what was the problem? Apparently we both didn't read the instruction manuals by Philips!  The sales representative asked her if she emptied the water tank after each use. Obviously we both didn't. We were the lazy kind who would leave the water in the water tank for the next use. What happens thereafter is the steam would cool and condense in the steamer cable. The condensation would then cause water to be stuck in the steamer head and the hot steam that builds up with each use cannot be pushed out smoothly. Pressure builds up and the next thing that happens is an insane amount of hot water that spurts out!
My friend went home and rinsed and emptied her water tank a few times.  The hot water spurting stopped.
OH.
I went home and did the same and never got scalded again. >.< I wished I read the instruction manual 2 years earlier instead of living in pain. I did google but there were no similar reviews with my experience hence I had always dismissed it as my own unique faulty appliance.
So after the long story, what's the pros and cons of getting a garment steamer?
Pros:
Fast set-up.
Easy to steam delicate clothes (especially for women's chiffon dresses or skirts with many pleats).
Fast to heat up.
Won't burn your clothes for noobs like me!
Overall "ironing" time is faster than traditional ironing as I only need about a minute to steam a dress compared to at least 5 minutes of traditional ironing on an ironing board (think of the flipping and turning of the dress)!
Cons:
Can be expensive to buy a garment steamer, there are models in the market like LauraStar that can go up to $2000. I must say I was very impressed by the salesman's demo that if ever I get a windfall, the first thing I would do is to buy a LauraStar!
You cannot get the nice shirt fold that men's shirts have. Although Philips now have a pleat accessory to create that crease. This seems troublesome to me though!
Please be careful of using this garment steamer on a laminate flooring area as the excess water might warp your flooring!
You will need a pole to hang your dress on as the garment steamer's cable must be straight at all times so the steam does not clog in the pipe. Can be cumbersome to have to hang your dress/ shirt high to steam it and always ensure that your hand is straight so the pipe is not twisted.
Clothes will be wet immediately after steaming so if you want to wear it straight away you might have to wait 5 minutes!
Overall, I would say I like having a Garment Steamer because if I only need to "iron" one dress, it makes for a faster ironing experience than having to set up the ironing board and wait for the iron to heat up for one dress.
Here are 4 Garment Steamers to think about! I hope this post enlightens you on how NOT to use a Garment Steamer! Remember to always read the instructions on maintenance and cleaning!
1) Philips ActiveTouch Garment Steamer GC555/05- $279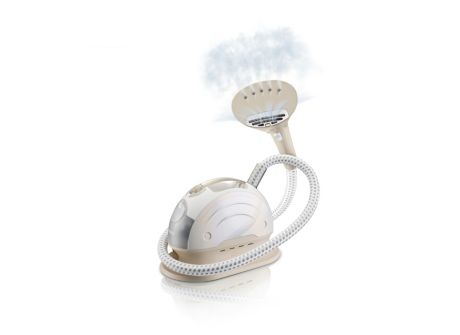 This model even has suction function to grip your fabric and a pleat making accessory
2) Novita Garment Steamer SS23- $149
3) Rowenta Compact Valet Garment Steamer (1500W) IS6200- $169
4) Laurastar Pulse- Price on Demand
This model might not really be considered as a garment steamer, but it has pulse steam mode which allows you to freshen you fabrics even when it's vertical (see their cool video below)!
[embed]https://www.youtube.com/watch?feature=player_embedded&v=PBZdQHhskGA[/embed]
Happy Steaming!!! And if your steamer ever spits hot water at you, you now know why! :P